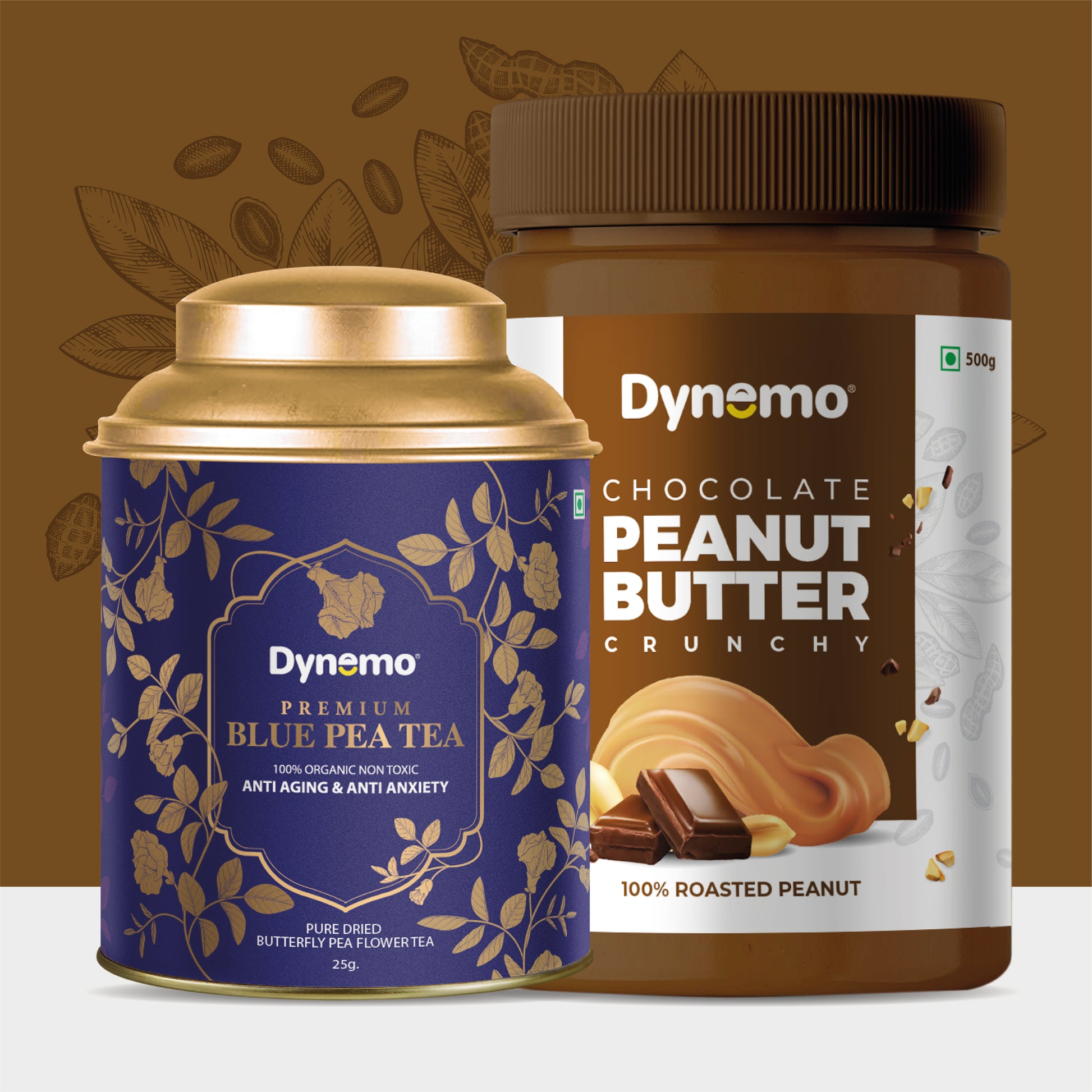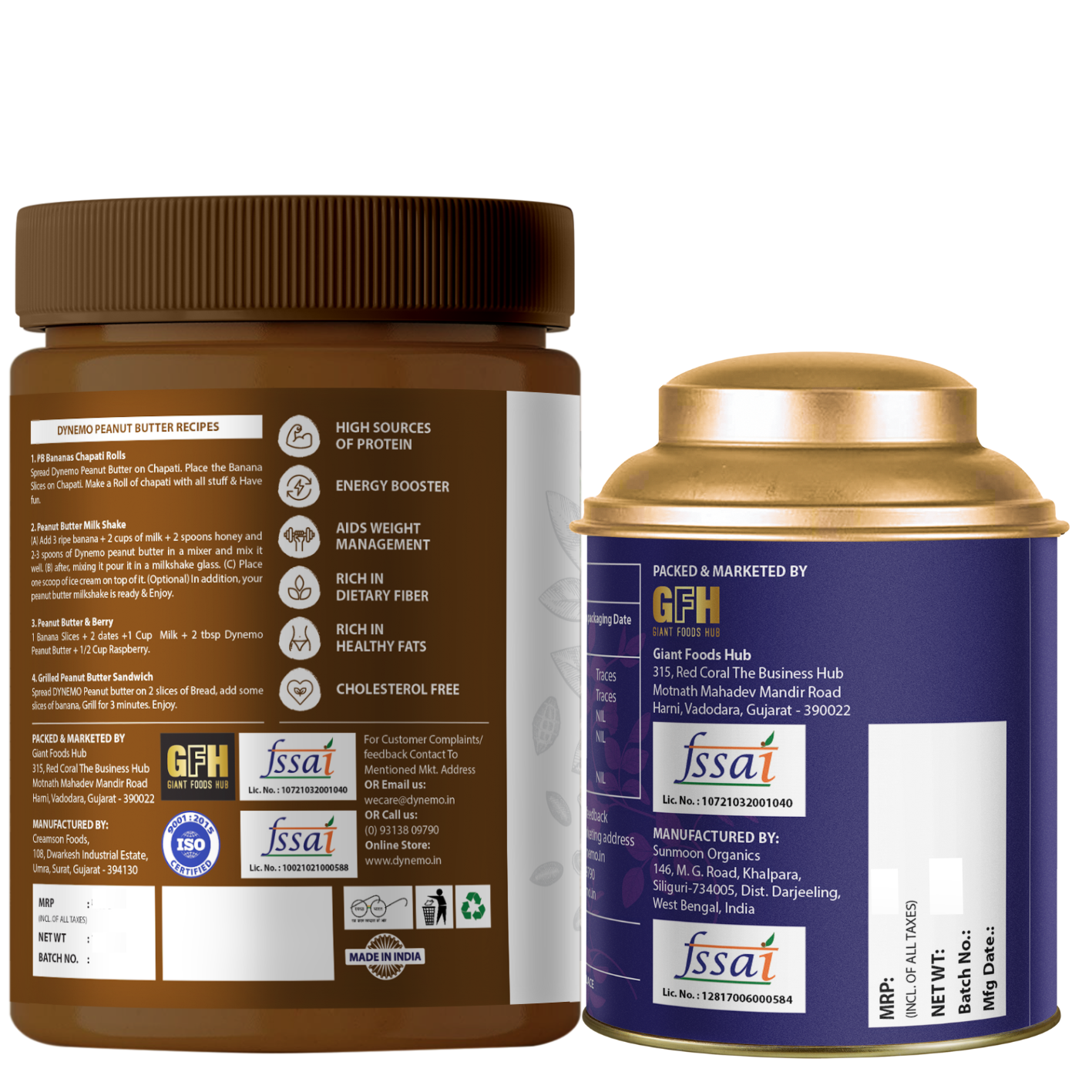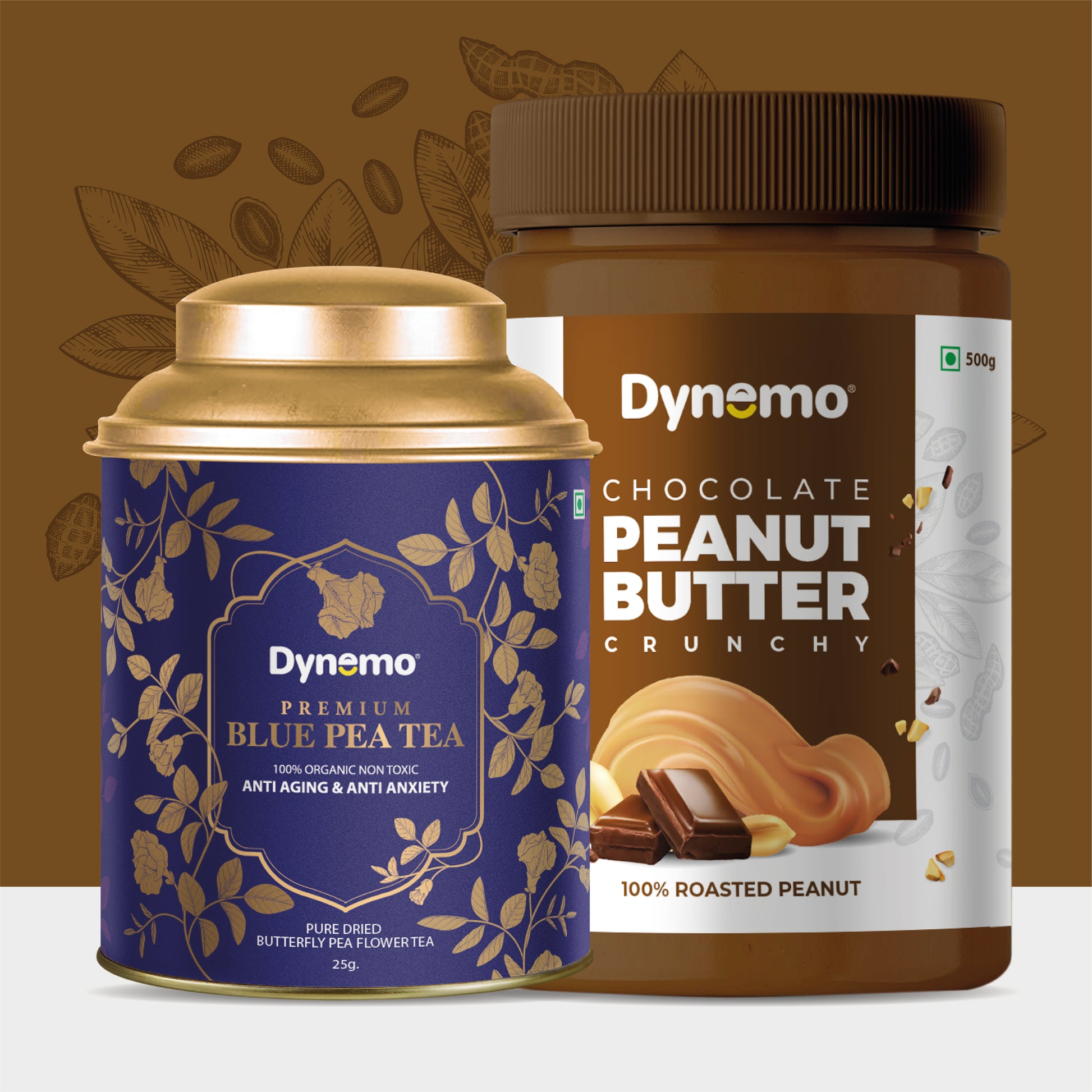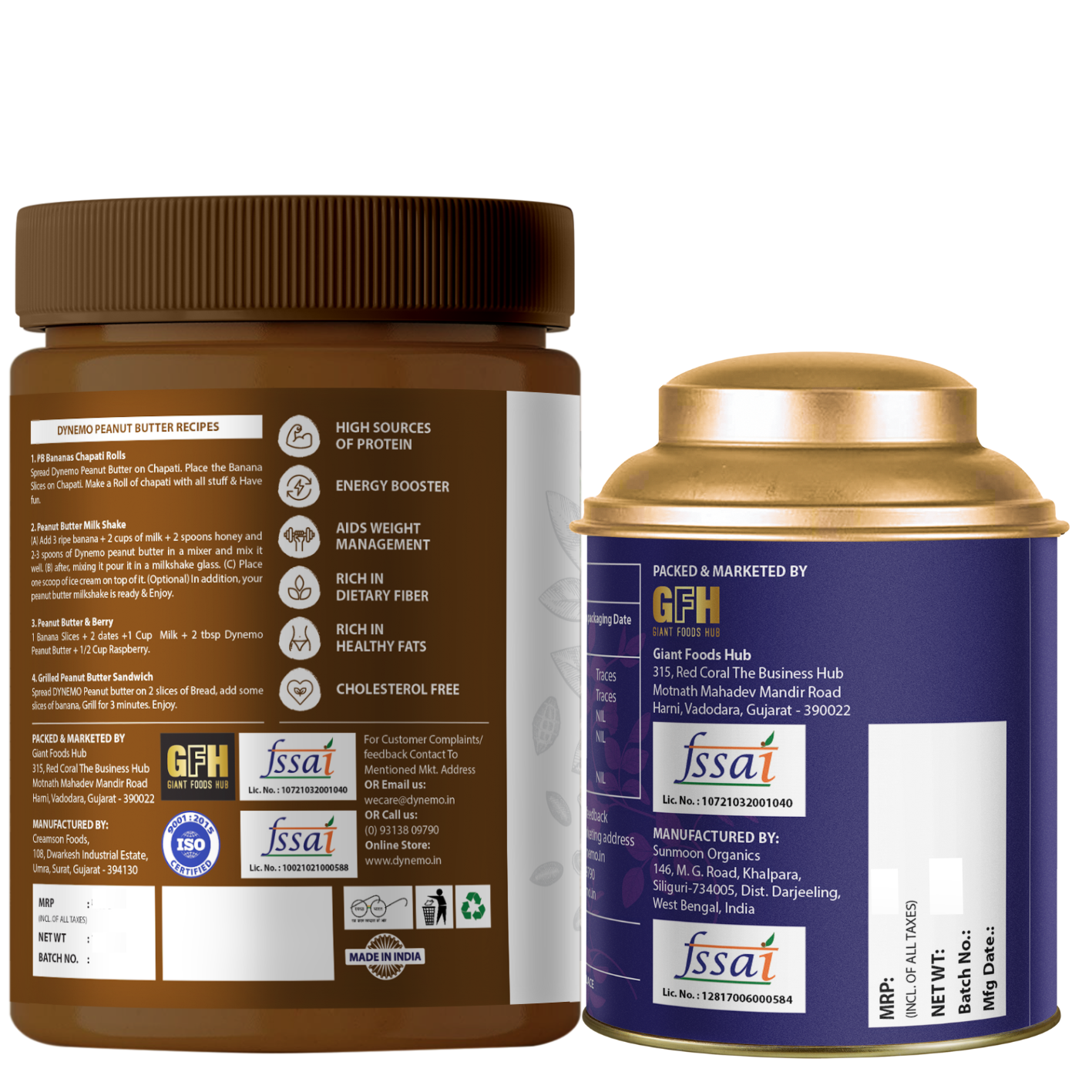 Dynemo Chocolate CRUNCHY Peanut Butter 500g + Dynemo Blue Pea tea 25g.
Sale price
Rs. 699.00
Regular price
Rs. 728.00
Offers Available at checkout.
Dynemo Chocolate CREAMY Peanut Butter:

Dynemo Chocolate CREAMY Peanut Butter is a true delight for chocolate and peanut butter lovers. Made with the finest ingredients, this smooth and velvety spread combines the rich, decadent flavor of chocolate with the creamy goodness of peanut butter. Every spoonful is a symphony of taste and texture, offering a luxurious treat that is perfect for any time of the day.

Indulge your senses as you experience the silky smoothness and irresistible aroma of this peanut butter. Its creamy consistency makes it easy to spread on your favorite bread, toast, or crackers. You can also use it as a delectable dip for fruits, pretzels, or cookies. The possibilities are endless!

Whether you're a fan of classic peanut butter and jelly sandwiches or enjoy experimenting with unique flavor combinations, Dynemo Chocolate CREAMY Peanut Butter is a versatile addition to your pantry. Use it to elevate your smoothies, milkshakes, or desserts, adding a burst of chocolatey goodness and nutty undertones.

Not only does this peanut butter taste amazing, but it is also packed with nutritional benefits. It is a great source of protein, healthy fats, and essential vitamins and minerals. With every bite, you can enjoy a guilt-free treat that nourishes your body and satisfies your cravings.

Dynemo Blue Pea tea:

Dynemo Blue Pea tea offers a delightful and refreshing herbal infusion that captivates the senses with its vibrant blue hue. Made from the petals of the butterfly pea flower, this tea is known for its stunning color and unique flavor profile.

Brewing a cup of Dynemo Blue Pea tea is an experience in itself. As the hot water infuses the dried petals, a mesmerizing deep blue color is released, creating an enchanting visual display. This stunning transformation makes it a perfect choice for tea enthusiasts looking to add an element of beauty to their tea-drinking rituals.

Beyond its striking appearance, Dynemo Blue Pea tea offers a mild and soothing flavor that is both floral and earthy. Sip by sip, you can savor the delicate notes and subtle sweetness, resulting in a calming and aromatic experience. It can be enjoyed as a hot tea, providing a comforting warmth, or chilled for a refreshing iced tea option.

Aside from its captivating flavor, Dynemo Blue Pea tea is also known for its potential health benefits. It is believed to possess antioxidants that can support overall well-being and promote a healthy immune system. It is a caffeine-free option, making it suitable for those seeking a soothing beverage without the stimulating effects.

With its vibrant color, delightful taste, and potential health benefits, Dynemo Blue Pea tea is a versatile and unique addition to your tea collection. Whether you enjoy it on its own or experiment with flavor combinations by adding lemon, honey, or herbs, this tea is sure to provide a delightful and visually stunning tea-drinking experience.
Shipping cost is based on weight. Just add products to your cart and use the Shipping Calculator to see the shipping price.We want you to be 100% satisfied with your purchase. Our Items can not be returned or exchange because it is a food products.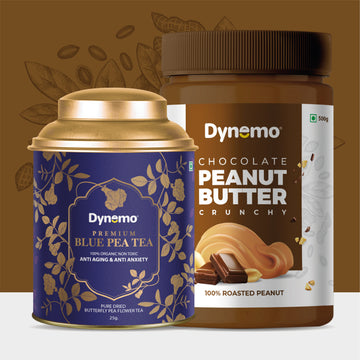 Dynemo Chocolate CRUNCHY Peanut Butter 500g + Dynemo Blue Pea tea 25g.
Sale price
Rs. 699.00
Regular price
Rs. 728.00